7 Celebrity kids with high net-worth
When one thinks of retirment, they probably think age 60, serrious back problems and probably a cheque worth living off for the next 3-4 years before joining the cue for government social grant. Well for these celebrity kids with high net-worths, retirement can be before their sweet 16 birthday, that's how much they are "guaped".
That said, being a celebrity kid also has its downside because of the constant media attention and interest in their lives. Seriously, no matter how much their parents try to shield them from the press, there is always a paparazzo who will find a way to get a few snaps. And the annoying thing about this is that these children didn't ask to be famous.
But maybe it's not all bad, because when these powerful babies grow up, they may not mind that their photograph was taken more times than the average kid because their parents are multi-millionaires and in some cases, even billionaires. Plus, having their names in the media will also help them build successful careers if they wanted. Children like Blue Ivy Carter (daughter of Beyoncé and Jay Z) and Asahd Tuck Khaled (son of DJ Khaled) have already started getting featured on their famous parents' albums, while others like Penelope Disick (Kourtney Kardashian and Scott Disick's daughter) can be seen on reality TV.
Below are 7 celebrity kids who, despite their tender ages, are already richer than we could ever hope to be!
Blue Ivy Carter is the second most powerful kid in the world
Beyoncé and Jay Z's first born, Blue Ivy Carter is probably one of the most well-known celebrity children. She was born on Jan. 7, 2012, and came in second place on Complex's list featuring the world's most powerful babies in 2014, when she was not even two years old (and just behind Kim and Kanye West's daughter, North).
Beyoncé and Jay Z have been very smart about parenting in the limelight and they choose to limit the number of public appearances that Blue makes, as well as the number of images that are shared of her on social media (a very different approach than DJ Khaled's). But she has already started her career in a sense because her voice has been featured on tracks of both her mother and her father, "Blue" and "Legacy," respectively.
On another note, with a mother who has an estimated worth of $350 million, and a dad with $1 billion, Blue could do worse!
2. Max Zuckerberg is a Billion Dollar baby
Mark Zuckerberg and his wife, Priscilla Chan, welcomed a baby girl, Maxima Chan Zuckerberg, into the world on Nov. 30, 2015, and not only is she super cute, but she's also the richest celebrity kid on this entire list!
Max's dad is the founder of Facebook, so this shouldn't come as too much of a surprise. Actually, according to Bloomberg, Mark is the fourth-wealthiest person in the world, with a fortune of $75.3 billion (and he's only 33).
But how does Mark feel about being a father? According to Romper, CNBC reported that he feels as though having a family has only made him better. He is quoted as saying, "The thing that I'm most proud of and the thing that brings me the most happiness, is my family." cue collective awwws now.
3. Stormi Webster was Kylie Jenner's best-kept secret
Her birth was perhaps the biggest secret in Hollywood, although everyone had a hunch that Kylie Jenner was pregnant, even if she chose not to share any photos on social media or go out in public for the whole nine months.
After months of speculation, Jenner finally revealed that she had been pregnant all along and that she had given birth to a baby girl. The little girl was born on Feb. 1, 2018, at Cedars-Sinai Medical Center, Los Angeles. Kylie and her baby daddy, Travis Scott, named her Stormi Webster.
Not only is Stormi going to be well-loved by her parents and her large extended family (the Kardashian-Jenner clan), she is also not going to want for anything because Jenner is reportedly worth $50 million. And according to Elite Daily, Scott is worth between $4 million to $8 million.
4. Asahd Tuck Khaled loves the finer things in life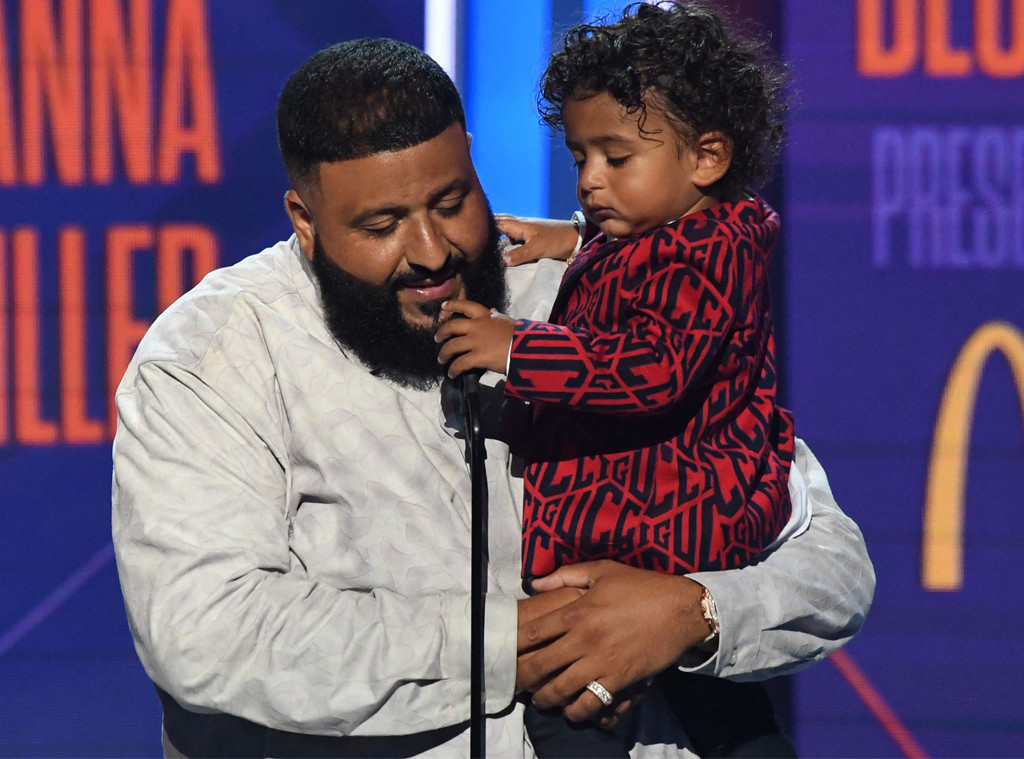 One of the most well-known celebrity kids is probably DJ Khaled's little boy, Asahd Tuck Khaled, who is always decked out in the fanciest clothes, including Gucci suits, really expensive sneakers, oh, and he also has a $100,000 watch.
Asahd Tuck Khaled was born on Oct. 23, 2016, and he already has his own Instagram page with 1.8 million followers. His dad has a fortune of $3 million but according to Time, Asahd also earns royalties from his dad's album, Grateful. DJ Khaled previously shared on Jimmy Kimmel Live! that his son helped him on the album, and according to The Fader, this was with his subtle gestures and expressions while in the studio.
He's adorable, but it's no secret that he has also started to experience the finer things in life from a young age!
5. Penelope Disick is already a reality TV star
Scott Disick and Kourtney Kardashian's daughter and second child, Penelope, was born on July 8, 2012, and she made it onto the top ten list of Complex's most celebrity kids in the world back in 2014 so she already has a title to her name, something that her dad, "Lord Disick" values.
Her famous dad is worth $12 million, while her mom's fortune is estimated at $35 million, and despite having a lot of cash to their names, they are not too posh to dress Penelope in hand-me-downs from her older brother, Mason. According to BabyGaga, Kardashian said, "With the clothes aspect . . . I've kept a lot of Mason's clothes. I'll even use them on Penelope as well, like little blazers, loafers, and some of his pants, even like a full suit and do a menswear like Saint Laurent look…" then again, the old clothes are designer pieces!
6. Bianka Bella Bryant is her daddy's third princess
RIP to Gigi and Kobe Bryant! Vanessa and the fallen MBA star welcomed their third daughter into the world on Dec. 5, 2016, little Bianka Bella Bryant (which is an absolutely adorable name). Her dad has an estimated net worth of $350 million, so she's definitely going to be one heck of a rich kid, but the best thing is that Bianka Bella has fantastic parents.
Kobe really loved being a dad, which he shared during an interview with Extra (via People). He explained that he gets teased by some of the guys for being outnumbered by women in his household, but he doesn't mind one bit. He said, "My friends say, 'It takes a real man to make a boy.' I'm like, 'Dude, it takes a king to make a princess… get in line.'"
If this is not the most adorable quote you have ever heard from a celebrity father, then we don't know what is.
7. Myllena Mae Gorré could be a super model in the making
What does the baby of a Victoria's Secret model look like, you ask? Well, say hello to Myllena Mae Gorré, the daughter of the Dutch supermodel, Doutzen Kroes, and her DJ husband, Sunnery James!
The couple actually have two children, Myllena Mae, who was born on July 30, 2014, and an older son, Phyllon Joy Gorré, who was born on January 21, 2011. It should also come as no surprise that these children are incredibly good-looking, but that's not the only thing that they were blessed with because while we can't be sure just how much money Sunnery James has, we do know that Kroes is worth a whopping $19 million! And she has frequently been on Forbes' World's Highest-Paid Models list, which is partly thanks to her work with Tiffany & Co.
Could her daughter be following in her footsteps? We will have to wait and see!
Follow us on social media to share your comments on the wealth of these celebrity kids.