In Pics: Five hits and misses at the 2017 Met Gala!
On May 1, New York's Metropolitan Museum of Art opened its doors for the Met Gala, the annual invitation-only fundraiser to benefit the museum's Costume Institute, and a launch party for its spring exhibition.
However, while it's easy enough to enjoy a parade of designer dresses from the red carpet, Some A-listers rose to the challenge and embraced the theme, while others seemed to miss the point.
Rihanna – miss
While we know that Rihanna is not one to shy away from a sartorial summons, her dedication to a 3-D petal look from the designer's Fall 2016 collection made her look a little bit too overdressed.
Tracee Eliis – miss
The most successful (and more comfortable) stars added their own personalities to the designer's aesthetic. Tracee Ellis Ross appeared more effortless than Rih in a short blue cocoon-dress with much greater range of motion.
Priyanka Chopra – hit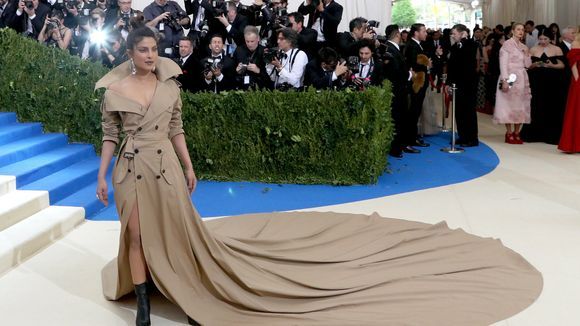 Priyanka went with a play on a classic trench coat by Ralph Lauren. The revamped look got an accentuated collar and enormous train. On the carpet, she said she enjoyed the idea of taking a traditional item and adding a Kawakubo-inspired twist — and it showed.
Migos – hit
Migos channeled their song Versace with entire ensembles from the designer and necklaces that further played off their work, including, of course, a raindrop. The trio kept their looks solid black, a hallmark of Comme des Garçons.
Katy Perry – miss
Katy wore a veiled dress created just for her by John Galliano, it was accessorised with a silver head piece and black accents around the eyes with an embroidered wool coat layered over a red tulle and silk chiffon dress, her sleeves elongated in a nod to Kawakubo, all by Maison Margiela Artisanal.
Picture credit: US Wekkly
Entertainment | Celebrity Gossip  and News
T.Nkabinde