Taylor Swift & Beyonce among the Top Songwriters in Grammy History: See where they rank
When the nominations for the 63rd annual Grammy Awards were announced last month, Taylor Swift and Beyoncé both moved up the list of songwriters with the most Grammy nods for song of the year. Swift landed her fifth nomination, more than any other female songwriter in Grammy history; Beyoncé nabbed her fourth.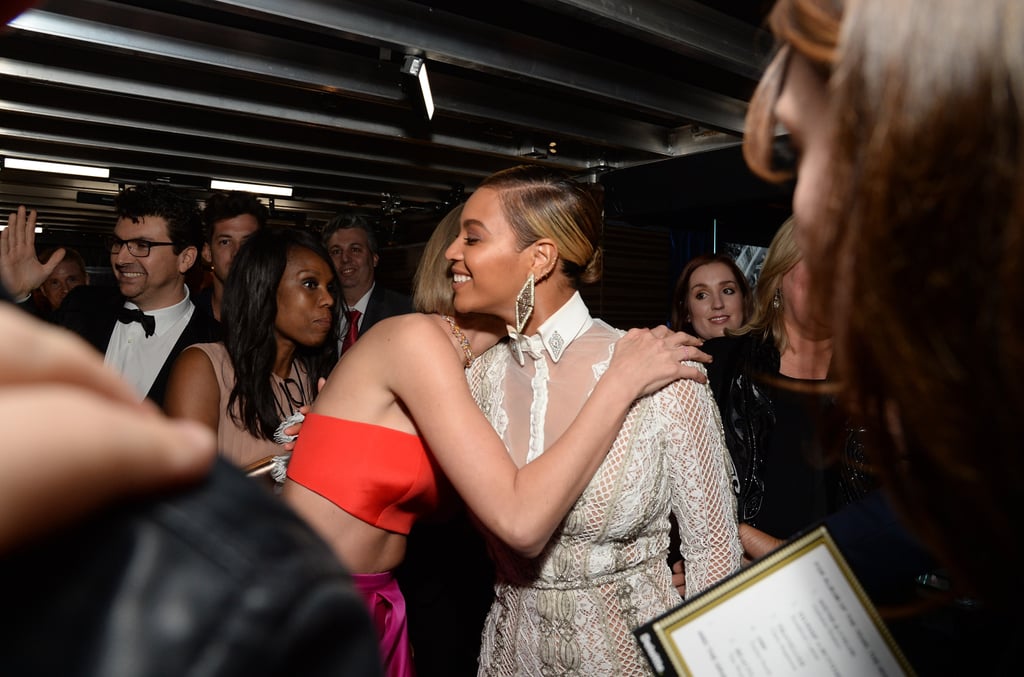 Here's a list of all songwriters — male or female — who have amassed four or more song of the year nods. At the end of each entry is the year of their induction into the Songwriters Hall of Fame. You'll see that several have not yet been inducted: Swift, Beyoncé, Philip Lawrence & Bruno Mars and the members of U2. Swift and Mars haven't been active for the required 20 years, but U2 and Beyoncé have (counting Beyoncé's success with Destiny's Child).
Paul McCartney, 6: "A Hard Day's Night" (1964), "Yesterday" (1965), "Michelle" (1966), "Hey Jude" (1968), "Let It Be" (1970), "Ebony and Ivory" (1982). The first five songs were credited to Lennon-McCartney. No other songwriting team in Grammy history has received five song of the year nominations. McCartney wrote "Ebony and Ivory," a candy-coated call for racial harmony, by himself. "Michelle," a trifle, by his standards, was his only song to win in this category. SHOF: 1987
Lionel Richie, 6: "Three Times a Lady" (1978), "Lady" (1980), "Endless Love" (1981), "All Night Long (All Night)" (1983), "Hello" (1984), "We Are the World" (1985). Richie wrote the first five songs by himself. He's the only songwriter in Grammy history to receive song of the year nods for five completely self-written songs. Richie co-wrote "We Are the World" with Michael Jackson. That was his only winner in the category. SHOF: 1994
Burt Bacharach, 5: "Wives and Lovers" (1963), "I'll Never Fall in Love Again" (1969), "Raindrops Keep Fallin' on My Head" (also 1969), "Arthur's Theme (Best That You Can Do)" (1981), "That's What Friends Are For" (1986). Bacharach co-wrote the first three songs with Hal David; the last two with Carole Bayer Sager, whom he married in 1982. (Christopher Cross and Peter Allen co-wrote "Arthur's Theme.") The last three songs were all written for feature films, though "That's What Friends Are For" took off only after Dionne Warwick & Friends cut it to put a spotlight on the AIDS crisis in 1985. That song was Bacharach's only winner in this category. SHOF: 1972
John Lennon, 5: Lennon was nominated for the five aforementioned songs on which he shared credit with McCartney. Sadly, he wasn't nominated for such solo gems as "Imagine." SHOF: 1987
Taylor Swift, 5: "You Belong With Me" (2009), "Shake It Off" (2014), "Blank Space" (2015), "Lover" (2019), "Cardigan" (2020). Swift co-wrote "Shake It Off" and "Blank Space" with Max Martin and Shellback. Swift has yet to win in the category — though she may win when the 63rd annual Grammy Awards are presented on Jan. 31. For the moment, she has more song of the year nods without a win than anyone else in Grammy history. SHOF: not yet
Alan Bergman and Marilyn Bergman, 4: "Nice 'n' Easy" (1960), "Theme From Summer of 42 (The Summer Knows)" (1972), "The Way We Were" (1974), "You Don't Bring Me Flowers" (1978). The husband-and-wife lyricist team wrote each of these songs with a different composer. The middle two nominees were both written for feature films. "The Way We Were" won both the Grammy for song of the year and the Oscar for best original song. SHOF: 1980
Beyoncé 4: "Say My Name" (2000), "Single Ladies (Put a Ring On It)" (2009), "Formation" (2016), "Black Parade" (2020). Note that Beyoncé's first two nominees had a feminist edge; the last two have been expressions of Black pride. "Single Ladies" won the award. SHOF: not yet
Sammy Cahn and Jimmy Van Heusen, 4: "High Hopes" (1959), "The Second Time Around" (1960), "Call Me Irresponsible" (1963), "September of My Years" (1965). The team wrote the first three songs for films. "High Hopes" and "Call Me Irresponsible" were Oscar winners. "September of My Years" was the title track of a Frank Sinatra album that won the 1965 award for album of the year. The team never won in this category. SHOF: 1972 and 1971, respectively
Will Jennings, 4: "Higher Love" (1986), "Didn't We Almost Have It All" (1987), "Tears in Heaven (1992), "My Heart Will Go On (Love Theme From Titanic)," (1998). Jennings wrote all four songs with different collaborators. "Tears in Heaven" and "My Heart Will Go On" both won the award. The latter song also won an Oscar for best original song. SHOF: 2006
Billy Joel, 4: "Just the Way You Are" (1978), "Honesty" (1979), "We Didn't Start the Fire" (1989), "The River of Dreams" (1993). Joel wrote all four songs by himself. Richie and Joel are the only songwriters to amass four or more song of the year nods for completely self-written songs. "Just the Way You Are" won, beating "Stayin' Alive" in the year of Saturday Night Fever. SHOF: 1992
Philip Lawrence and Bruno Mars: 4: "F*** You" (2010), "Grenade" (2011), "Locked Out of Heaven" (2013), "That's What I Like" (2017). Christopher Brody Brownand Ari Levine each co-wrote three of these nominated songs. "That's What I Like," which was credited to eight songwriters, won the award. No other song of the year winner has had more than four songwriters, though "Black Parade," with nine co-writers, could set a new record if it wins on Jan. 31. SHOF: not yet
Max Martin, 4: "I Want It That Way" (1999), "Roar" (2013), "Shake It Off" (2014), "Blank Space" (2015). Martin co-wrote the last two songs with Swift and Shellback. Martin has yet to win in this category. SHOF: 2017
Sting, 4: "Every Breath You Take" (1983), "Money for Nothing" (1985), "Be Still My Beating Heart" (1988), "If I Ever Lose My Faith In You" (1993). Sting wrote three of these four songs by himself. He collaborated with Mark Knopfler on "Money for Nothing." "Every Breath You Take" won — a real achievement in the year of Thriller. This was the only "Big Three" category Jackson didn't win that year. SHOF: 2002
U2, 4: "I Still Haven't Found What I'm Looking For" (1987), "Beautiful Day" (2000), "Stuck in a Moment You Can't Get Out Of" (2001), "Sometimes You Can't Make It on Your Own" (2005). U2 (Bono, Adam Clayton,The Edge, Larry Mullen Jr.) is the only band to share a writing credit on four song of the year contenders. "Beautiful Day" and "Sometimes You Can't Make It on Your Own" both won. SHOF: not yet
Main Image: Unprox