The 7 Best Pandemic Outbreak Movies To Binge In Lockdown
With the current Covid-19 pandemic looming over everyone's head, our gossip team has ranked the best pandemic films throughout the years. Some of these films involve disease, zombies and the occasional blood-sucking monsters. In the end, these films tell the story of the worst coming true and just how it would it would impact relationships and humankind. It begs the question, will the main characters survive?
1. The Girl With All The Gifts (2016) – 6.6
You might remember seeing the trailer or this film on Youtube. The Girl with All the Gifts takes place in the near future as a fungal disease turns humans into flesh-eating monsters. At an army base called Home Counties, they experiment with hybrid second-generation children who retain their thinking abilities but still crave human flesh.
Melanie (Sennia Nanua) is one of these children but has exceptional potential. After the army base is attacked, Helen Justineau (Gemma Arterton) and Dr.Caroline Caldwell (Glenn Close) protect Melanie, as she is the only possibility of finding a cure.
2. Contagion (2011)
The film Contagion has recently risen in popularity but IMDb still has it rated at a 6.7. Beth Emhoff (Gwyneth Paltrow) returns to her suburban home after a business trip in Hong Kong. She soon collapses and dies of an unknown disease in the hospital. Her husband, Mitch Emhoff (Matt Damon) finds their son dead from the same symptoms and is put under quarantine until they realize he is immune.
3. Perfect Sense (2011) – 7.1
This science-fiction drama has a bit of romance to level the intense plot. Perfect Sense, starring Eva Green and Ewan McGregor, revolves around an epidemic that causes humans to lose their sensory perceptions. Each loss of sensory perception is first precedented by extreme emotion.
An unattainable urge to cry is followed by loss of smell. Loss of taste occurs after experiencing extreme gluttony or irrational panic. Susan (Green), an epidemiologist, and Micahel (McGregor), a chef, meet and begin a relationship in the chaos of trying to live a normal life during the pandemic.
4. I Am Legend (2007) 
I Am Legend is based on the 1954 novel of the same name by Richard Matheson. The post-apocalyptic action thriller film follows U.S. Army virologist Lt.Col. Robert Neville (Will Smith) in a deserted Manhattan. Years prior, a re-engineered measles virus kills a majority of the population with a small percentage being turned into vampires.
Neville spends his days searching for a cure and looking for rations. One day he is rescued by two immune survivors who plan to go to a survivors camp in Vermont. If what they say is true, Neville intends to find a cure to save the rest of humanity.
5. Train To Busan (2016)
The South Korean film, Train to Busan is a zombie outbreak film starring Gong Yoo, Jung Yi-mi and Mang Dong-seok. Seok-woo (Gong Yoo) isn't the best father after missing his daughter's recital. His daughter convinces him to take take a train trip to Busan to visit her mother.
6. 12 Monkeys (1995)
The neo-noir science fiction film, 12 Monkeys received high praise when it first debuted and went on to become a cult classic film. A deadly virus wipes out a majority of humanity in the year 1996. Those who survived were forced to live underground.
In 2035, James Cole (Bruce Willis) is selected to travel back in time to find the truth on whether or not the group Army of Twelve Monkeys released the virus. As he investigates who planned and released the virus, the past and future start to meld together and he might not stop the virus in time.
7. Outbreak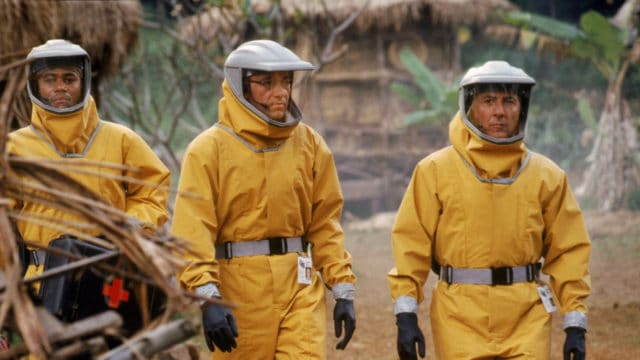 Army doctors struggle to find a cure for a deadly virus spreading throughout a California town that was brought to America by an African monkey.
Director:
Writers:
Laurence Dworet, Robert Roy Pool
Stars:
Dustin Hoffman, Rene Russo, Morgan Freeman | See full cast & crew
Tebogo Nkabinde