'Tired' Mcebo Dlamini pleads guilty: Here's what this means for his career
Fees Must Fall activist Mcebo Dlamini on Monday pleaded guilty in his criminal case, but has avoided jail time.
He was given a suspended sentence following his plea and a sentencing agreement.
Dlamini's attorney Aviwe Yakopi told TimesLIVE that his client pleaded guilty to a charge of public violence and of unlawfully and intentionally staying in SA. The plea came a day before his trial was set to continue.
The Johannesburg Magistrate's Court sentenced Dlamini to two years, wholly suspended for five years, for public violence. He was also given six months' imprisonment, again wholly suspended for five years, for unlawfully staying in the country.
Dlamini's matter was handled by advocate Dali Mpofu. It has gone on for four years with various postponements.
He was originally facing six charges: assault with intent to cause bodily harm, public violence, theft, malicious damage to property, possession of a dangerous weapon and contravention of immigration laws. Four of the charges were withdrawn.
"We consider this to be a win because the matter did not go through the prosecution and we were able to have most of the charges withdrawn," said Yakopi.
Dlamini took to Facebook to announce the end of the legal battle. "As a law-abiding citizen, I accept the ruling. I am tired of fighting," he said.
Yakopi said while the criminal case against Dlamini had ended, he now faced yet another battle: to prove that he was a South African citizen.
According to Yakopi, Dlamini came to SA in 2012 on a student visa to undertake studies at Wits University. While he was in the country, he apparently found his biological mother, who applied for a late registration of birth. He said this was approved, and Dlamini was subsequently issued with a South African ID number.
However, after Dlamini's arrest in 2016, the department of home affairs said there were "discrepancies" with his identity number — and then requested him to undergo a DNA test so they could prove that he was the biological child of a South African citizen.
In May 2017, Dlamini's status was revoked when he failed to prove that he was the child of a South African.
Yakopi said they now have three days to convince the department otherwise.
"We intend to prove to the department of home affairs that Mcebo Dlamini is a child of a SA citizen and therefore entitled to SA citizenship," he said.
National Prosecuting Authority (NPA) spokesperson Phindi Mjonondwana could not be reached for comment at the time of publishing.
However, she told SowetanLIVE: "We accepted the plea bargain and we stopped prosecution on the other charges."
In interview with TimesLIVE last year, Mjonondwana said: "It is of concern that this matter has been delayed. The state has been ready to proceed with trial since 2017 and two years down the line, we still have not reached that stage — due to the fact that the accused has repeatedly changed legal representation. He brought requests for postponements before court.
"Unfortunately, as the NPA, our hands are tied. We will await the next available dates, which are in 2020. Hopefully by then we will be able to proceed."
Meanwhile, Mcebo pleading guilty could mean the end of his law career. Taking to twitter, one could sense from the tone of his texts that Dlamini was tired and in despair.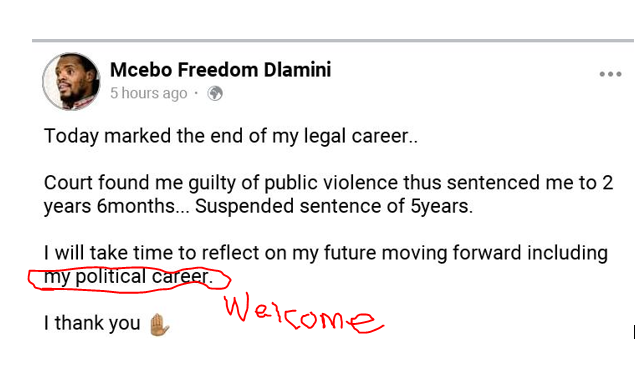 Twitter fans took to the platform to show support of the fees must fall activist.
Image: mg.co.za