These male celebrities proved to the world that plastic surgery is not only a woman's game!
Many people think that plastic surgery is a woman's game, and it's true that a lot of Hollywood ladies have gone under the knife. But the truth of the matter is that men are just as likely to want to augment or alter their physical appearance as women, especially when they're under the microscope of celebrity.
Here are some male celebrities who you may have noticed look a little different lately — and it could be because of some secret nips and tucks!
Michael Jackson
Over time, Jackson's facial structure changed as well. Surgeons speculated he also had a forehead lift, cheekbone surgery and altered his lips. Those close to the singer estimated that, by 1990, he had undergone around ten procedures.
Ashton Kutcher
He's one of the hottest guys in the business, but he supposedly underwent surgery to narrow his nose.
Brad Pitt
Say it isn't so! He's one of the best looking men in the history of humanity, but apparently even Brad needed some help. The actor had his ears pinned back to keep them from sticking out.
Robert Pattinson
The Twilight star apparently had rhinoplasty to adjust the bridge and tip of his nose before getting his vampire role
Ryan Gosling
The handsome actor reportedly had a nose job to slightly straighten the bridge of his nose earlier in his career.
Zac Efron
The High School Musical star did not need surgery, but he underwent a nose job procedure several years ago to get a slightly narrower, less prominent nose.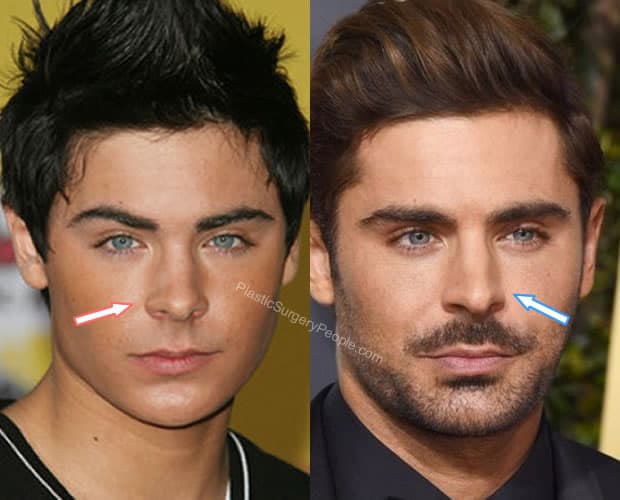 Tom Cruise
Tom Cruise has had a lot of work done to his nose. It's rumored that he's had more than one nose job. The Mission Impossible actor isn't shy to fix his face–he got braces when he was in his 40s.
Patrick Dempsey
The Grey's Anatomy actor is said to have had rhinoplasty early in his career to make his nose a little smaller, and eternally become McDreamy.
The Weeknd
The Weeknd has unveiled the latest development of his "makeover" in his music video for "Save Your Tears".
In August last year, the R&B artist prompted concern from some fans when he took to the stage with an apparently bloodied face during the MTV Video Music Awards ceremony.
Two months later, The Weeknd – real name Abel Makkonen Tesfaye – appeared at the American Music Award ceremony in November wearing bandages on his face.
Now, it appears that the two instances were a setup for his latest music video, which dropped on Tuesday (5 January).
Main Image: The Indian Express